Faculty of Information, U of T  | Supervisor: Julie Yujie Chen
Project Title: Toronto 14-24
---
What are you hoping to learn as a CDHI fellow?
Overall, I aim to increase my proficiency with data visualization tools as well as gain a vaster knowledge of other resources that might enrich my research and subsequent public scholarship. Furthermore, as I am planning extensive archival research for System Imaginaries, I look forward to the facilitated consultations with digital scholarship librarians afforded by this fellowship to better guide these investigations.
How did you first learn about digital methods and what attracts you to this kind of research?
I originally learned about digital methods during my undergraduate degree in New Media at UTSC. This interest was renewed when I served as co-principal investigator with Dr. Dan Guadagnolo on the "Dark Patterns: Where Marketing Meets UX Design" research project, supported by the CDHI. Digital methods appeal to me as they provide a means to appraise and catalogue often-indecipherable digital technologies—as well as create interactive archives to share my findings.
What digital technologies or research methods do you use in your research?
My CDHI project, Toronto 14-24, employs ArcGIS as a data visualization tool and general research aid. My broader dissertation employs Internet-based research, archival research, and onsite walkthroughs as central research methodologies. These methods are applied in pursuit of locating and cataloguing the marketing materials, provenance documents, and technical specifications of individual retail technologies.
What is one of your hobbies or something you like to do to unwind?
In my downtime, I like to watch B movies and forage for plants and mushrooms in the Rosedale Valley.
---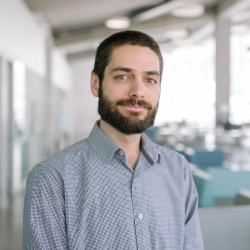 Mathew Iantorno (he/him) is a doctoral student in the Faculty of Information at the University of Toronto. His research project, System Imaginaries: How Service Sector Automation is Sold, explores how new forms of retail automation are reconfiguring employment, consumer responsibility, and public space in ways that are often incongruous with their marketing pitches. In addition to a Graduate Fellowship in Critical Digital Humanities, this project is currently supported by a SSHRC Canada Graduate Scholarship – Doctoral. Mathew's research is informed through his volunteer work with the Design Justice Network, an international organization dedicated to rethinking design processes to centre those normally marginalized by design.