Faculty of Information, U of T  | Supervisor: Alan Galey
Project Title: Disability Representation in DH: Textual Encoding Initiative Schema for Braille Materials
---
What are you hoping to learn as a CDHI fellow?
As a CDHI fellow, I am hoping to engage with people who use digital humanities tools in different disciplines. I am interested to find out how DH tools are used, adapted, and developed for different types of research goals.
How did you first learn about digital methods and what attracts you to this kind of research?
I first learned about OCR and TEI as a research assistant on a textual encoding project in my last year of my undergrad degree. I'm fascinated by the possibilities of textual encoding tools and how they can be adapted to work with any type of text. This is especially important now as publishers and scholars are paying more attention to accessibility and how disabled readers access textual materials.
What digital technologies or research methods do you use in your research?
My dissertation project uses a variety of methods common to book history and bibliography, such as interviews and case studies, as well as digital humanities tools and methods. This year, I have been working on training an OCR (optical character recognition) model to read embossed braille, which I call BCR (braille character recognition). My CDHI project is focused on developing guidelines for working with braille in TEI (textual encoding initiative), which is an encoding tool commonly used to examine and analyze text and text-adjacent materials.
What is one of your hobbies or something you like to do to unwind?
My hobbies include cooking, crochet, and walking my dog.
---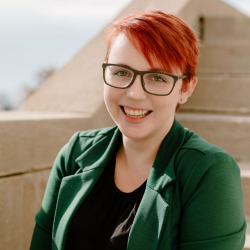 Ellen Forget is a PhD candidate at University of Toronto in the Faculty of Information and the Book History and Print Culture collaborative program. They are a graduate of the Master of Publishing and Editing Certificate programs at Simon Fraser University. Ellen's research interests include braille, accessible book production, contemporary publishing, and speculative fiction genres. Ellen also works as a freelance editor, alt text writer, and accessibility consultant.