Praxis Workshop Series
CDHI hosts four Praxis Workshops per year. Workshops are frequently facilitated by librarians and other experts from across U of T. Topics are selected in response to requests from our network and identified needs. We aim for these workshops to include opportunities for participants to practice what they are learning. Following each Praxis Workshops, facilitators join DH Developer Matthew Lefaive for a Digital Drop-In.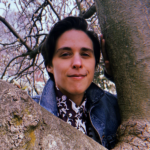 Hosted by:
Dr. Rachel Corbman
Upcoming Workshops
There are no upcoming events.
Previous Workshops