Department for the Study of Religion, FAS | Supervisor: Srilata Raman
Project Title: Caste, Literature, and Reading Publics: A Print History of Nandanar's Story in Colonial and Postcolonial Tamil Nadu
---
What are you hoping to learn as a CDHI fellow?
My hope is to use digital humanities tools and methods to enhance the way I study Tamil literature. Often the scope of our inquiries in Tamil literary studies are limited by how fast we can read. I hope that by adapting tools that are widely in use for English for Tamil language material, I can ask questions of a large corpus of texts that I otherwise wouldn't have been able to.
How did you first learn about digital methods and what attracts you to this kind of research?
I have slowly learned about digital methods since starting my PhD. When I spoke to the Map and Data Librarians at the St George campus, I realized there was good scope to pursue the questions I was interested in.
What digital technologies or research methods do you use in your research?
Optical Character Recognition (OCR) software, Natural language processing
What is one of your hobbies or something you like to do to unwind?
I enjoy movement exploration – dance, pilates, gyrotonics, and weightlifting!
---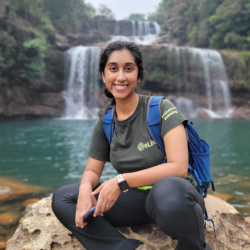 Janani is a PhD candidate in the Department for the Study of Religion with a Connaught International Scholarship. Her work is at the intersection of religion, literature, and performance in South Asia. Janani's dissertation looks at two mythological figures well known in the Tamil-speaking world, the truth-speaking king Harishchandra and the Dalit saint Nandanar. She traces their story from the mid-nineteenth century through the twentieth in Tamil print and oral traditions and asks how caste is tied to ethical discourses in Tamil communities. Janani held a Fulbright Student Fellowship (2022 – 2023) to carry out dissertation research in India.