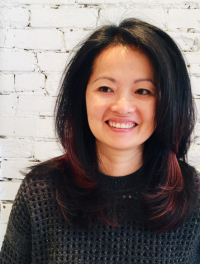 The Critical Digital Humanities Initiative (CDHI) is thrilled to welcome Professor Thy Phu as the CDHI Associate Director, UTSC. As Associate Director, Prof. Phu will lead the CDHI's research portfolio and will play a key role in developing international research collaborations. She will engage UTSC faculty, librarians, and students in CDHI programming and UTSC-specific initiatives. Through this work, Prof. Phu will contribute to the continued development of CDHI as a hub for innovative, critical DH research at UTSC.
Prof. Phu brings extensive research, leadership, and mentorship experience to CDHI and is well-positioned to lead our research portfolio. Her extensive program of community-engaged research and public humanities practice examine the intersections between media studies, diaspora and migration, vision and justice. Having played a leadership role in several research collaborations with curatorial and archival components—such as Family Camera Network and Cold War Camera—she has significant experience in critical DH tools, research project management, and public humanities work. Additionally, Phu brings 15 years of experience with community engagement and working with under-represented groups, mentoring undergraduate and graduate researchers, and academic leadership.
Prof. Phu is a Distinguished Professor of Race, Diaspora and Visual Justice at the Department of Arts, Culture, and Media at UTSC. She is a co-founding member of the Critical Refugee + Migration Studies Network of Canada and a member of the Royal Society of Canada's College of New Scholars, Artists, and Scientists. She is the author of two monographs, Picturing Model Citizens: Civility in Asian American Visual Culture and Warring Visions: Vietnam and Photography. She has also co-edited three volumes, Feeling Photography,  Refugee States: Critical Refugee Studies in Canada, and Cold War Camera.