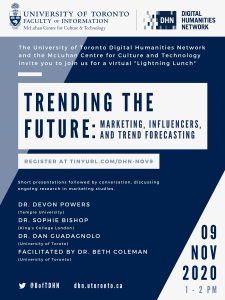 Join us for a jointly-hosted Lightning Lunch between the Digital Humanities Network and the McLuhan Center for Culture and Technology. Presenters Devon Powers (Temple University), Sophie Bishop (Kings College London), and Dan Guadagnolo (University of Toronto) gather to discuss their research in critical marketing studies. Beth Coleman (University of Toronto) serves as moderator.
The event will take place from 1pm to 2pm EST November 9, 2020. The speakers will give short presentations on their work, followed by discussion.
Register here to attend!
Speaker Biographies:
Devon Powers is Associate Professor of Advertising, Temple University. She is the author of On Trend: The Business of Forecasting the Future (University of Illinois Press, 2019), Writing the Record: The Village Voice and the Birth of Rock Criticism (University of Massachusetts Press, 2013), and co-editor of Blowing Up the Brand: Critical Perspectives on Promotional Culture (Peter Lang, 2010). Her research explores historical and contemporary consumer culture and the dynamics of cultural intermediation, circulation, and promotion. Her work has appeared in Journal of Consumer Culture, New Media & Society, Critical Studies in Media and Communication, and Popular Communication, among other venues, and she is the chair (2018-2020) of the Popular Communication division of the International Communication Association (ICA).
Sophie Bishop is a Lecturer in Digital Marketing and Communications. Her research falls under the heading of 'feminist political economy' – broadly, she examines how creative work and promotional cultures are increasingly contingent to social media platforms, and the implications for labour, representation and discrimination. Her current projects include studying the experiences of beauty influencers within rapidly changing digital marketing industries (particularly alongside understandings of 'algorithms'), looking at how creative practitioners use targeted ads and a study of content farms and cultural optimisation via egg videos on YouTube. She is organising the International symposium, 'Algorithms for Her?', which will run in January 2020.
Dan Guadagnolo's research and teaching examines the cultural power of historical and contemporary marketing, PR, branding, and advertising. He looks at the ways professionals working in these fields have sought to shape what we know, who we are, and what our collective futures look like. In 2020, Dan earned a Ph.D. in U.S. history, with a minor in Communications, from the University of Wisconsin-Madison. His scholarly writing has appeared in The Journal of Dramatic Theory and Criticism, American Studies, Business Ethics, and Modern American History. He has also written on contemporary marketing, PR, and culture for The Washington Post, The Literary Review of Canada, The Tyee & The National Post.
Beth Coleman researches experimental digital media, specializes in race theory, game culture and literary studies. She is currently working on two books and has previously published Hello, Avatar, a critically acclaimed book examining the many modes of online identity and how users live on the continuum between virtual and the real. She has also curated numerous art exhibits and media installations within North America and in Europe. Her current research investigates aspects of human narrative and digital data in the engagement of global cities, including aspects of locative media/mobile media and smart cities.
Recording Available!
Thank you to everyone for such a wonderful discussion! If you were not able to attend the lunch, or if you would like to rewatch the talk, a Zoom recording is available here.