The University of Toronto's Critical Digital Humanities Initiative (CDHI) welcomes its inaugural cohort of graduate student fellows! Eight Graduate Fellowships in Critical Digital Humanities have been awarded to an interdisciplinary cohort of University of Toronto PhD students representing a range of disciplines across the divisions, including UTSC, UTM, FAS, and Information. Though their research varies widely, each project aligns with the CDHI's focus on forging a new paradigm of critical humanities scholarship emphasizing questions of power, social justice, and critical theory.
The fellows will form a community of practice and will contribute to the broader CDHI community by participating in events, such as the CDHI annual conference, Lightning Lunches, and praxis workshops.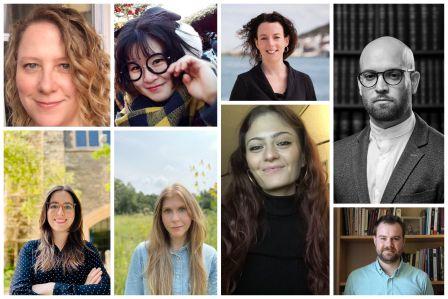 Top row: Carina Emilia Guzmán, Yuxing (Yolanda) Zhang, Tracy O'Brien, and Andrew Kaufman. Bottom row: Tia Sager, Taylor Thornton, Mariam Karim, and Ian Turner.
Carina Emilia Guzmán is a PhD candidate in the Faculty of Information and the Mark S. Bonham Centre for Sexual Diversity Studies collaborative program, studying with Prof. T.L. Cowan (UTSC; Faculty of Information) and Prof. Jasmine Rault (UTSC; Faculty of Information). Guzmán's dissertation is developing a trans-feminist and queer (TFQ) framework, "stor(y)ing mi desmadre," to explore the digital, media, and archival praxes of feminized queer communities in Latin America.
Mariam Karim is a PhD candidate in the Faculty of Information and the collaborative program at the Women and Gender Studies Institute, supervised by Prof. Jasmine Rault (UTSC; Faculty of Information). Her project examines Arab women's movement's (1936–2020) information activism, exploring feminist continuities and media transformations in movement websites and social media.
Andrew Kaufman is working towards his PhD in Human Geography under the supervision of Prof. Alan Walks (UTM). His project, "Vulture Capitalism: The Making of Sovereign Debt Markets," will produce a digital guide tracing the path of capital that is lent to low-and-middle-income nations through global capital markets.
Tracy O'Brien is a PhD candidate in the Department of English and the collaborative Book History & Print Culture program studying with Prof. Lynne Magnusson (FAS). Her dissertation, "A Corpus Study of Language Variation in Early Modern Women's Writing," examines linguistic structures women writers used between the mid-16th and late-17th centuries.
Tia Sager is a PhD candidate in the Department of Art History. Her dissertation, entitled "The Poetics and Politics of Space: A Regional Analysis of the Cretan Postpalatial Built Environment" and supervised by Prof. Carl Knappett (FAS), explores the built environments of Late Bronze Age Crete by means of 3D modelling.
Taylor Thornton is a doctoral candidate working with Prof. Max Friesen in the Department of Anthropology (FAS). In collaboration with the Pitquhirnikkut Ilihautiniq/Kitikmeot Heritage Society (PI/KHS) and Carleton University's Geomatics and Cartographic Research Centre, she is developing the "Inuinnait Archaeology Atlas," a digital platform that will record the Inuinnait cultural landscape, braiding together traditional Inuinnait knowledge and archaeological data.
Ian Turner is working towards his PhD in the Department for the Study of Religion with Prof. Christoph Emmrich (UTM). His doctoral research looks at how the Newar community in Nepal's Kathmandu Valley has drawn on Indigenous traditions of Buddhism and Hinduism through recent decades. By converting self-published printed paperbacks and chapbooks into text-searchable digital files, he maps the literal terms that the authors use to critically reflect on cultural forms like religion and the home.
Yuxing (Yolanda) Zhang is a PhD candidate working with Prof. Tero Karppi (UTM) at the Faculty of Information. Her research combines multispecies ethnography and media and infrastructural studies to examine the politics of water-based, algorithmic agroecological technologies in Suzhou, China.
Congratulations again to our incoming fellows!