Faculty of Information, U of T  | Supervisors: Sarah Sharma & M. Murphy
Project Title: Concrete Rain and Rocket Debris: Mapping the Environmental Harms of SpaceX's Boca Chica Rocket Launch Facility
---
What are you hoping to learn as a CDHI fellow?
I am really interested in learning how to use various programs, programming languages, and other interactive forms of media that can help me present my research to a wider audience.
How did you first learn about digital methods and what attracts you to this kind of research?
I first learned about digital methods during my undergraduate studies at Humboldt-Universität zu Berlin, where I completed a course called "The Algorithm as Researcher." In this class, we primarily focused on DH research utilizing Python, with my project focusing on a sentiment analysis of reddit site r/TheRedPill. In recent years, I have encountered other digital methods, and have started gravitating towards projects that use digital mapping and GIS as a way to grapple environmental and human justice issues.
What digital technologies or research methods do you use in your research?
In my current project, I use a contingent mapping system, Google Maps, to track the changing environmental conditions connected to the operation and maintenance of SpaceX's Boca Chica rocket launch site. My research is based on a multi-method approach of ethnographic interviews and Critical Discourse analysis of archival materials, popular culture texts, and industry materials.
What is one of your hobbies or something you like to do to unwind?
I enjoy video games and small-scale gardening in my free time.
---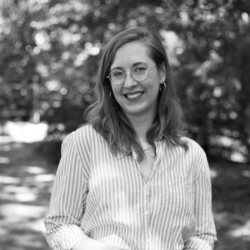 Réka Gál is a PhD candidate at the Faculty of Information at University of Toronto. She is the co-editor of Earth and Beyond in Tumultuous Times: A Critical Atlas of the Anthropocene, published by meson press. Her dissertation map the genealogies of technological maintenance and care labors on space stations, focusing on the implications of human-machine interdependence in outer space as it relates to issues of environmental and labour justice.