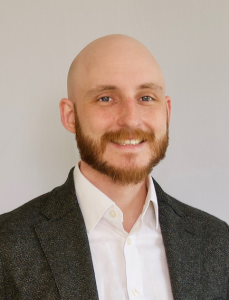 We are thrilled to report that Andrew S. Brown, formerly a Postdoctoral Fellow with the DHN at the JHI, has accepted a position as Assistant Professor of English at Dalhousie University.
Andrew was a Council on Library and Information Resources (CLIR) Digital Humanities Network Postdoctoral Fellow at the Jackman Humanities Institute for 2019–2020, for their theme on "Strange Weather." His own research focuses on the literature, politics, and culture of early modern England, with projects on theatre and the idea of representation, and on the concept of water as a form of infrastructure. More information about his research is available on his website.
Andrew worked tirelessly over the course of 2019-2020 on a number of initiatives, including curating our Lightning Lunch series; coordinating our distinguished lecture with Wendy Chun; organizing our strategic planning sessions regarding our ISI proposal; and collaborating on the writing of that grant. We would not have been able to function without him! In addition, Andrew taught the very first Intro to Digital Humanities course at UTM in the Fall of 2020, to great acclaim. We will miss his wry humour, quiet focus, and big heart. The DHN thanks him for his excellent work, and wishes him all the best in this new position.